Winner of the 2014 #1 Ventura County Theatre Production by the VCReporter
Meet the cast & director of Dark Heart of Poe's "Heartbreak Valentine" production- 2016
2012
"full justice to Poe's works and makes for a unique and exhilarating night of theater!"
~Robert Lilly, StageHappenings.com (read the full review here)
2013
"stunningly effective"
~Cary Ginell, VConStage.com (read the full review here)
2014
"We let the language and the stories take over, along with the great performances"
~Director Andrew James in an interview with Cary Ginell of VConStage.com (read part 1 here and part 2 here)
Dark Heart of Poe 2012 radio interview on 805 with Tom and Sandy.mp3
Dark Heart of Poe 2014 radio interview on Tom and Sandy 805.mp3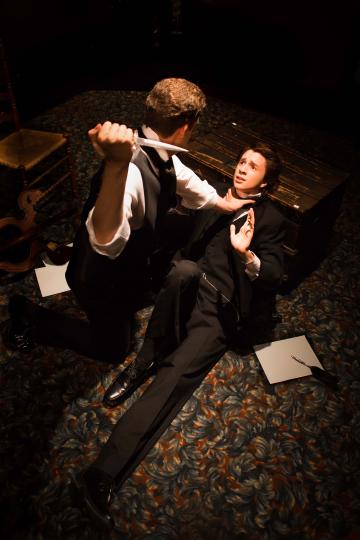 Photos by Melissa Miller, 2014
(click photo to enlarge)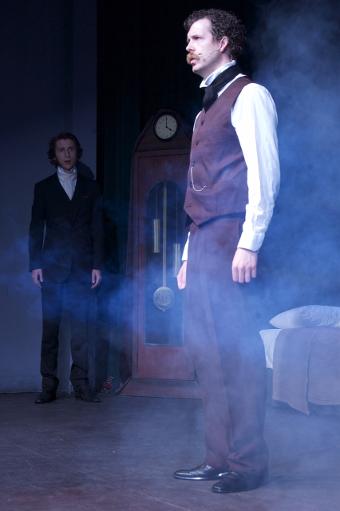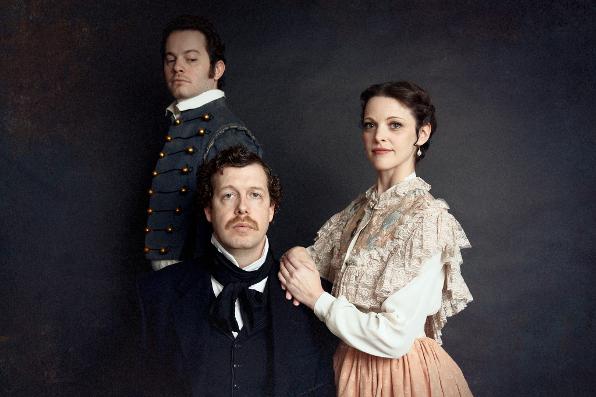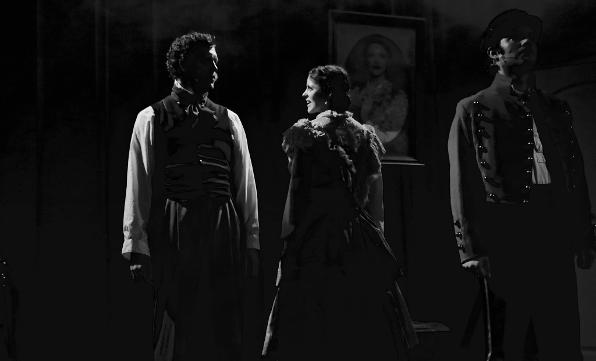 "Dark Heart of Poe has it ALL - solid writing, flawless acting and directing, impressive production values and genuine chills that would make the Godfather of Gothic Literature proud. Austin Robert Miller's Poe has a cool, calculated creepiness that makes his performance all the more terrifying when he finally loses it during the show's unforgettable climax of The Tell-Tale Heart. Travis Winterstein's Edgar sublimely carries the weight of Poe's woes on his shoulders, acting as part haunted narrator, part instigator and constant foil to Miller. The chemistry between the two is not to be missed. The synthesis of their performances combined with director Andrew James's steady hand with a lighting and sound design that are positively disturbing all create an unforgettable night of horror. Highest possible recommendation."
"I saw Poe last Sunday evening and wanted to drop you a note to tell you how much I enjoyed it. It was a creepy, intimate and extremely well done piece of theatre. I am telling my friends this is not to be missed. Thank you."
"I saw this marvelous presentation on Opening Day. WONDERFUL performance! It is rare to see Edgar Allan Poe performed live. These two actors are superb under the direction of Andrew David James. Pure pathos with realism. I felt as though I was transported to the 1840's! If you are a Poe Aficionado, you'll love this intimate and frightening staging of the master of Gothic Horror."
"Amazing isn't the word. Stunning, surprising, thrilling, riveting to name a few. Austin is a natural and just looks the part, oozing confidence. Travis is a diamond in the rough. He has depths that we never knew about. And Andrew's direction has really made the show what is is."
"I came opening night and had to come back, so I came to the 10:30 p.m. Halloween show. It was a great crowd, even at this hour. Kudos to Andrew James, Allison Williams, and, of course, the great cast of Dark Heart of Poe."
"That was AMAZING. Congrats on one of the best shows I've ever seen. That show was fantastic."
"HOLY @#$% that show ROCKED. THANK YOU for getting so many fans in last night!"
"LOVED IT!! Want more... give me more!!! Great job everyone!!!"
"Poe was awesome! I was truly impressed!"
"Exceptional! The works of Mr. Poe...scary stuff but great!"

"Wonderful work on Poe. Such a creepy yet entertaining thing to watch."
"Amazing show! Thank you!"
"Very glad I came. Wonderful show."
"Saw The Dark Heart of Poe last night. Great show with two great actors! Go see it!"
"The best theatrical experience I have ever seen!"