Dark Heart of Poe
Adapted by A.D. Hasselbring from the works of Edgar Allan Poe
Conceived by Andrew James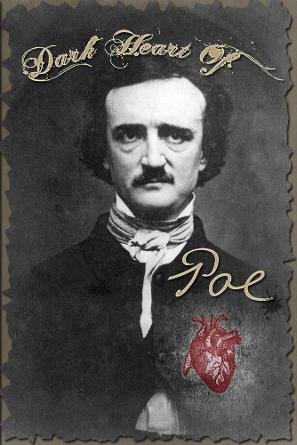 A dark heart is beating. Experience Poe like you never have before at the riveting and innovative performance of Dark Heart of Poe. Conceived by award-winning director Andrew James. Spend the perfect night with the Master of the Macabre, Edgar Allan Poe.
From Edgar Allen Poe's first couplet in 1824 at the age of 15 to his final words upon his deathbed in 1849, Dark Heart of Poe tells the tale of an artist struggling against himself to find his unique voice and survive in the Victorian age. Using Poe's own letters and works, Dark Heart of Poe introduces audiences to the man who defined early American literature by establishing his own genre and capturing the imaginations of suspense readers everywhere.
Bursting with groundbreaking literary works such as The Tell Tale Heart, Annabel Lee, The Masque of the Red Death, Eldorado, and The Raven, the show is "stunningly effective," says Cary Ginell of VC Onstage. This portrait of a man who lived a life of turmoil, turbulence, and passion does "full justice to Poe's works and makes for a unique and exhilarating night of theater!" raves Rob Lilly of Stage Happenings.
Beyond the bounds of a typical drama, this show reaches out to theater lovers as well as teachers, students, and all lovers of great literature, poetry, romance, and history. Dark Heart of Poe sparks the imagination and emboldens us through our shared experiences by staging the iconic works that have entertained audiences for more than 150 years. In Dark Heart of Poe Edgar Allen Poe lives again on stage and in our hearts, continuing to entertain, educate, and enthrall from beyond the grave.